Reviewed by Paul Magrath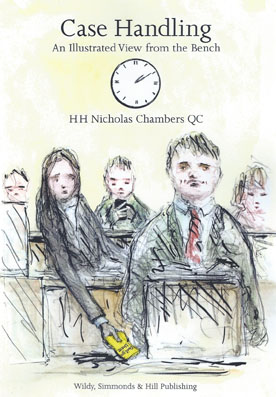 This charming little handbook is now in its third printing, after proving a popular stocking-filler at Wildy's bookshop.
Its author, a retired judge, is also a keen watercolourist and draughtsman, a family trait that apparently can be traced back tot he 18th Century. It is well known, however, that the law (dating back to section 41 of the Criminal Justice Act 1925) forbids the creation of an graven image within the portals of a courtroom – so none of the charming sketches used to illustrate the sage advice in this catalogue of hints and reminders can have been done during Nick Chambers QC's working life as a barrister of Brick Court Chambers or sitting as the Mercantile judge for Wales or in the Commercial Court in London.
What sage advice does His Honour have to impart? It is refreshingly down to earth, and however obvious it may seem it is often just the sort of thing to be overlooked when dealing with the steamed up indignation of angry clients.
On Is there a Case?
Every case involves a problem but not every problem involves a case.
On Strategy:
Plan, plan, plan – and do it.

But always remember that once the battle begins the strategy usually ends; so be flexible.
On Funding:
Funders don't like surprises.
On Correspondence:
Open correspondence should not refer (even inferentially) to without prejudice exchanges.

Think before you press the send button.
On Settlement:
Inquiring about settlement is not a sign of weakness – pleading for settlement is.
On Bundling:
Don't cram a lever arch file like a piece of holiday luggage.
As these extracts show, his prose is not wigged and robed but plainly suited to the needs of everyday litigants (including litigants in person) in the rough and tumble of first instance litigation.
You could call it a skeleton argument from design except that it is too rooted in the natural selection of daily forensic evolution. No special pleading here, just an appeal to common sense which makes no great claim on your time, and damages not your budget.
Nick Chambers is also the author of Missed Moments in Legal History. He was formerly the chairman of the Incorporated Council of Law Reporting for England and Wales (ICLR), a role to which he brought the same wit and common sense as has been distilled into his latest book.
All the author's profits go to the Barristers' Benevolent Association.